Berikut ini kami sajikan lirik lagu Cupid FIFTY FIFTY. Lagu romantis dari FIFTY FIFTY yang belakangan ini lagi viral banget di mana-mana.
Belakangan ini, lagu Cupid FIFTY FIFTY tengah naik di berbagai platform streaming musik seperti Spotify & YouTube Music. Bahkan juga sejumlah sosial media seperti TikTok & Instagram juga ditemukan menggunakan lagu ini dalam unggahan dari beberapa penggunanya.
Pada artikel berikut, kami akan menyajikan lirik lagu Cupid FIFTY FIFTY. Dan beberapa hal menarik mengenai lagu tersebut. Jadi tanpa berlama-lama lagi langsung saja ini dia pembahasannya.
Ceritakan Seseorang Yang Temukan Kembali Cinta Ditengah Rasa Kesepian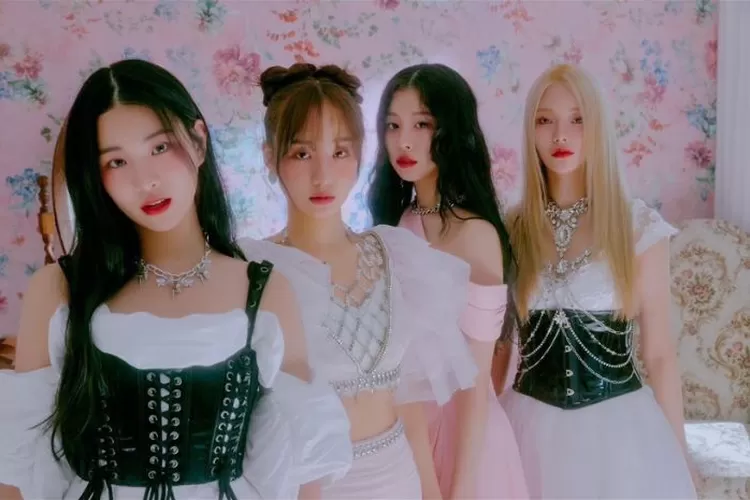 Melansir laman Genius, lirik lagu Cupid FIFTY FIFTY ini mengisahkan tentang seseorang yang sebelumnya merasakan rasa kesepian yang amat mendalam, Dalam kondisi tertentu, ia merasa jika kehidupan romantisnya akan berakhir seperti ini.
Namun ketika datang seseorang yang mampu kembali menghidupkan perasaan jatuh cintanya itu. Dia menjadi benar-benar terpikat dengan lawan jenis yang membuatnya merasa seperti mendapat kesempatan kedua dari seorang Cupid.
Dalam mitologi Yunani kuno. Cupid merupakan Dewa Cinta yang digambarkan sebagai anak kecil bersayap yang nakal, serta membawa busur dan panah, yang dapat membuat manusia maupun dewa jatuh cinta.
Lagu Cupid sendiri ada dalam dua versi, yakni versi asli yang memiliki campuran bahasa Korea dan Inggris, dan full Inggris dengan tambahan kata Twin Ver. Pada artikel ini, kami akan menyajikan versi Inggris dari lagu Cupid yang memang viral saat ini.
Lirik Lagu FIFTY FIFTY – Cupid (Twin Ver.)
[Intro: Aran]
La, la, la, la-la-la
La, la-la-la, la, la-la-la
[Verse 1: Aran, All]
A hopeless romantic all my life
Surrounded by couples all the time
I guess I should take it as a sign
(Oh, why, oh, why, oh, why, oh, why?)
[Pre-Chorus: Sio, All]
I'm feelin' lonely (Lonely)
Oh, I wish I'd find a lover that could hold me (Hold me)
Now I'm crying in my room
So skeptical of love (Say what you say, but I want it more)
But still, I want it more, more, more
[Chorus: All]
I gave a second chance to Cupid
But now I'm left here feelin' stupid
Oh, the way he makes me feel that love isn't real
Cupid is so dumb
[Verse 2: Aran]
I look for his arrows every day
I guess he got lost or flew away
Waiting around is a waste (Waste)
Been counting the days since November
Is loving as good as they say?
[Pre-Chorus: Sio, All]
Now I'm so lonely (Lonely)
Oh, I wish I'd find a lover that could hold me (Hold me)
Now I'm crying in my room
So skeptical of love (Say what you say, but I want it more)
But still, I want it more, more, more
[Chorus: All]
I gave a second chance to Cupid
But now I'm left here feelin' stupid
Oh, the way he makes me feel that love isn't real
Cupid is so dumb
[Post-Chorus: All]
(Cupid is so dumb)
[Bridge: Aran, Sio]
Hopeless girl is seeking
Someone who will share this feeling
I'm a fool
A fool for love, a fool for love
[Chorus: All, Aran, Sio]
I gave a second chance to Cupid
But now I'm left here feelin' stupid
Oh, the way he makes me feel that love isn't real
Cupid is so dumb
I gave a second chance to Cupid (Hopeless girl is seeking someone)
But now I'm left here feelin' stupid (Who will share this feeling)
Oh, the way he makes me feel that love isn't real (I'm a fool)
Cupid is so dumb (A fool for love, a fool for love)